Tertiary plant
LEMMING
IMPACT CRUSHER

CR

ICR-T Piscis
Tertiary plant Lemming III
Thanks to the DINAFLOW system together with the rotor impact with horizontal axis crushing system, the inertia produced by its movement is used to generate electricity, reducing the consumption of electrical energy.
Maximum engine performance thanks to the speed variator equipped in the series. Thus enabling a constant granulometric curve at the same time.
Complete portability without the need for vehicles and/or special accessories.
ARJA crushers are characterized by extensive experience in the world of impact crushing, with the Piscis series that opened the way. Sandboxes and shape rectifiers with maximum production while preserving optimum cubicity.
Our impact crushing equipment comes equipped as standard with a metal detector and a permanent magnet for the complete protection of the machinery, thus preventing the entry of non-crushable, ferrous elements into the chamber.
The crusher's components that are most exposed to wear and tear will be designed in a ceramic alloy material.
Receptacle hopper made of 6 mm thick steel plate and a framework of transverse reinforcement ribs on all sides..
There is a grid on top to prevent the accidental entry of oversized material.
Equipped with a control booth to house and protect the electrical and operation panel, which enables safe maintenance work and easy accessibility for the operator.
Centralized equipment regulation and control system in an electronic tablet thanks to the installation of programmable automation. The Vijeo Design'Air app for Smartphones is available as an optional accessory.
The equipment is pre-installed with an irrigation system for dust removal.
Concerning safety and protection systems for the worker required by European regulations, ARJA shredders have a limit switch installed in the access doors to the chamber that cuts off electrical current travelling to the engine. In addition, the bolt that enables opening the doors has been designed to allow the rotor to be locked, thus preventing accidental entrapments. It has four telescopic legs by means of a hydraulic system.
It has four telescopic legs by means of a hydraulic system.
To ensure the manufacture of a product with the highest quality, all components have been strictly selected due to being the best on the market (bearings, cast elements, electrical equipment, etc.)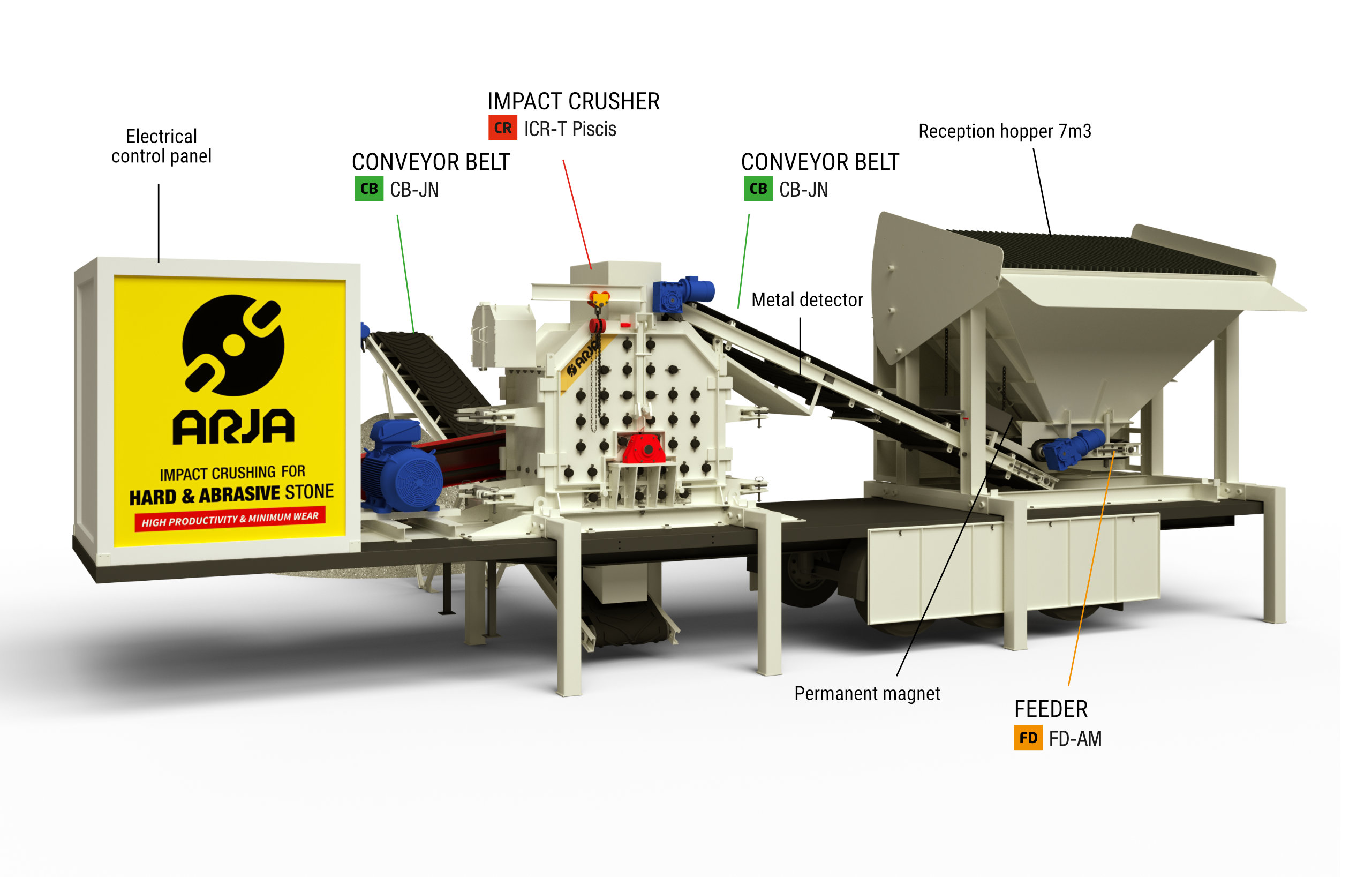 Tertiary plant
LEMMING III
CR

CR-T Piscis 1400 / 2000

FD

FD-AM 800 / 1000

CB

CD-JN 650 / 800
ELEMENTOS PRINCIPALES
IMPACT CRUSHER
ICR-T Piscis
| CR | | | | | |
| --- | --- | --- | --- | --- | --- |
| Model | TPH | kW | mm | mm | Kg |
| Piscis 1400 | 90 | 132 | 220 x 660 | 0 - 90 | 9200 |
| Piscis 2000 | 120 | 200 | 140 - 1000 | 0 - 90 | 10400 |
| | | |
| --- | --- | --- |
| 1055 | Diameter | 1000 |
| 680 | Length | 1025 |
| 1700 | Weight | 2300 |
| 2 | Blow bars | 4 |
ICR-T Pisicis 1400
ICR-T Pisicis 2000
FEEDER
FD-AM
| FD | | | | |
| --- | --- | --- | --- | --- |
| Model | TPH | kW | kg | Un |
| FD-AM 800 | 150 | 4 | 150 | 1 |
CONVEYOR BELT
CB-JN
| CB | | | | |
| --- | --- | --- | --- | --- |
| Model | mm | TPH | kW | mm |
| CB-JN 650 | 650 | 90 | 3 | 0 - 80 |
| CB-JN 800 | 800 | 120 | 4 | 0 - 100 |

Download
IMPROVE YOUR PERFORMANCE
ALL OUR WEAR PARTS ARE AVAILABLE IN:
Ceramic / High Chrome / Martensitic