Screening plant
LEMMING
Screening plant Lemming SC
Total portability without the need for vehicles and/or special accessories, in addition to complete autonomy thanks to the generator unit that is an integral part of the equipment.
Receptacle hopper made of 6 mm thick steel plate and a framework of transverse reinforcement ribs on all sides..
The vibrating screens with an ARJA box are made of electro-welded sheet metal and braced with a standardized structure, which makes for a very robust chassis. Free screening system, which prevents vibration from being transmitted to the chassis. Vibration by means of a drive system, counterweights and eccentric shaft. Screening mesh tensioning system by means of lateral hooks. Transmission by means of pulleys and belts.
Designed to offer a high screening capacity for clean products derived from any type of crushed material feed.
Mesh selection according to the needs of each client to obtain the desired products.
Energy efficient equipment and maximum optimization of the installation thanks to the variable speed drive that also controls the flow of power.
Centralized equipment regulation and control system in an electronic tablet thanks to the installation of programmable automation. The Vijeo Design'Air app for Smartphones is available as an optional accessory.
It has four telescopic legs by means of a hydraulic system.
To ensure the manufacture of a product with the highest quality, all components have been strictly selected due to being the best on the market (bearings, cast elements, electrical equipment, etc.)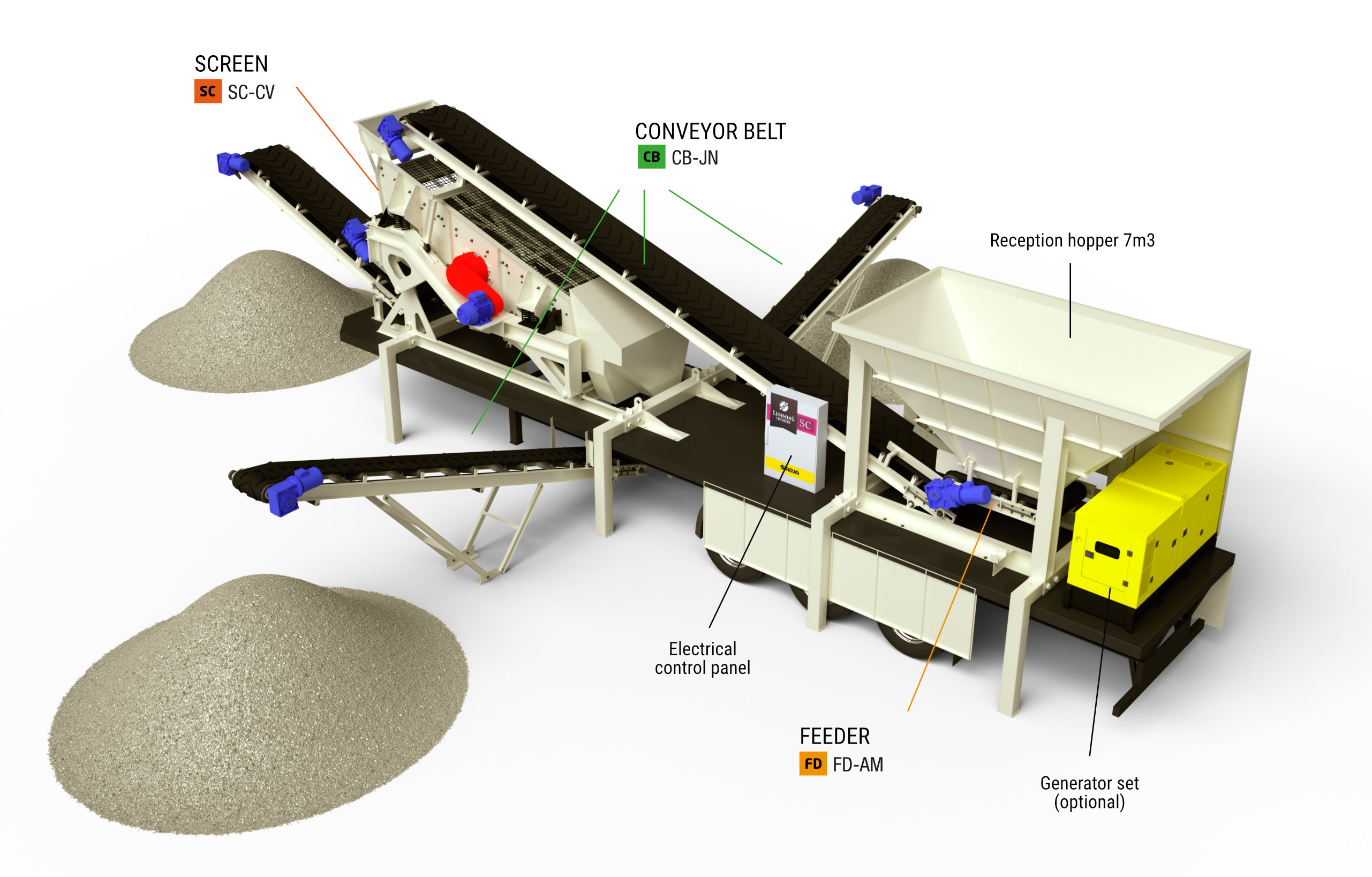 Screening plant
LEMMING SC
SC

SC-CV 60 / 75

FD

FD-AM 800

CB

CD-JN 500 / 800
MAIN ELEMENTS
SCREEN
SC-CV
| SC | | | | | |
| --- | --- | --- | --- | --- | --- |
| Model | mm | m2 | Un | kW | Kg |
| SC-CV 60 | 1500 x 4000 | 6 | 2 / 3 | 11 / 11 | 5800 |
| SC-CV 75 | 1500 x 5000 | 7,5 | 2 / 3 | 11 / 15 | 7600 |
FEEDER
FD-AM
| FD | | | | |
| --- | --- | --- | --- | --- |
| Model | TPH | kW | kg | Un |
| FD-AM 800 | 150 | 4 | 150 | 1 |
CONVEYOR BELT
CB-JN
| CB | | | | |
| --- | --- | --- | --- | --- |
| Model | mm | TPH | kW | mm |
| CB-JN 500 | 500 | 80 | 3 | 0 - 40 |
| CB-JN 800 | 800 | 150 | 4 | 0 - 70 |

Download
IMPROVE YOUR PERFORMANCE
ALL OUR WEAR PARTS ARE AVAILABLE IN:
Ceramic / High Chrome / Martensitic